This is the first in a series of blogs I will be posting to give any readers a little character background on the people/places/things I'll be writing about.
Part I : Sean W. Loizou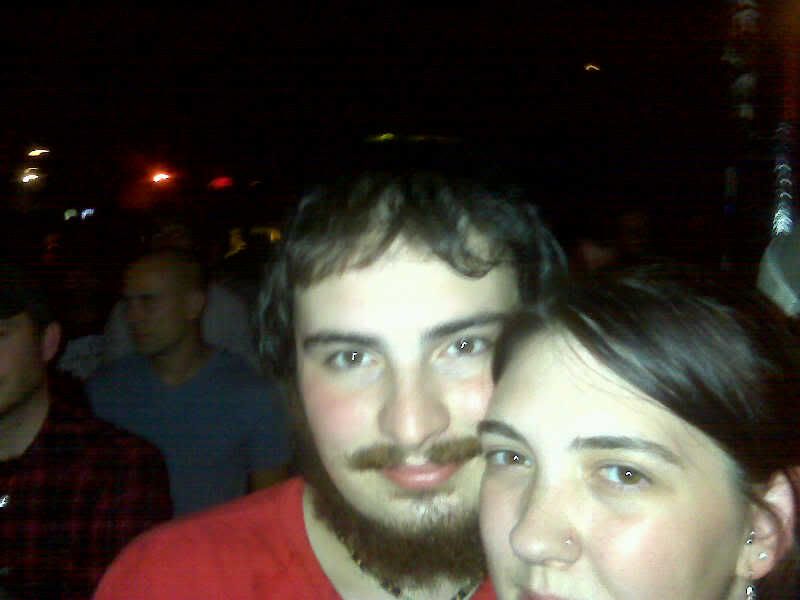 [Photo taken 24 Sept 2009, Weakerthans concert, Detroit, MI]
Sean (age 21) is my wonderful, sweet, Cypriot/communist/hippie boyfriend. He is currently a European history major at Monroe County Community College, with plans to finish his BA at the University of Toledo. His main interests include European history (specifically, WWII and Russia), playing his guitar (quite skillfully, I might add), listening to all manner of black metal and folk music, and doing goofball things to me to show his appreciation and love. We've been dating since 25 September 2008 and it's been nothing short of amazing.
The main reason we get along so well? Communication, plain and simple. When we fight, we talk it out. We share our opinions, thoughts, and feelings without fear of rejection. I have had deeper and more philosophical conversations with him than anyone else I know. He encourages me to expand my mind and think critically about situations. We help each other to think about the reasons behind our actions, and we always express our love for each other. I'm easily one of the luckiest girls in the world because of this. To top it off, we've been living together for a year now and it's never really been stressful or annoying- it just feels natural.
Suffice to say, we are incredibly in sync and almost always on the same wavelength. He's my other half and I can hardly wait until there's just one last name on our mailbox. :]